Academic Profiles
---
Anthony Singhal
Associate Professor
Office: BS-P249
Phone: 780-492-7847
Email:
Weblinks: Labpage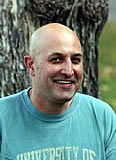 Teaching
Psyco 377 - Human Neuropsychology
Science 100 - Integrated Science
Research Interests
Cognitive neuroscience of attention, memory, emotion, and visuomotor control
Selected Publications
Chan, M. & Singhal, A. (2012). The emotional side of cognitive distraction: implications for road safety. Accident Analysis and Prevention, In Press.
Madan, C. & Singhal, A. (2012). Encoding the world around us: Motor-related processes influence verbal memory. Consciousness & Cognition, 21, 1563-1570
Cruikshank, L., Caplan, J., & Singhal, A. (2012). Human electrophysiological reflections of the recruitment of perceptual processing during actions that engage memory. Journal of Vision, 12(6): 29, 1-13.
Cruikshank, L., Singhal, A., Hueppelsheuser, M., Caplan, J. B. (2012). Theta oscillations reflect a putative neural mechanism for human sensorimotor integration. Journal of Neurophysiology, 107, 65-77.
Armstrong, G. & Singhal, A. (2011). Neural markers of automatic and controlled attention during immediate and delayed action. Experimental Brain Research, 213, 35-48.