NA Profiles
---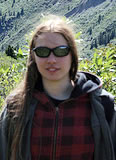 Teaching
Psyco 281 - Principles of Behavior
Teaching Assistantships
Psyco 281 - Principles of Behavior
Psyco 372 - Behavior in Relation to Genetics
Psyco 381 - Principles of Learning
Psyco 485 - Theory in Learning and Comparative Cognition
Research Interests
Comparative Auditory Perception: My main focus is on the differences, and the factors contributing to, pitch perception in songbirds and humans.
Awards
Masters Thesis Certificate of Academic Excellence 2009 from the Canadian Psychological Association
Alberta Ingenuity Fund Graduate Scholarship (2009-2013)
NSERC Post Graduate Scholarship - Doctoral (2009-2011)
Northern Scientific Training Program Grant (2008-2009)
Queen Elizabeth II Graduate Scholarship - Masters (2007-2008)
Selected Publications
Hoeschele, M., Guillette, L.M., & Sturdy, C.B. (accepted April 2, 2012). Biological relevance of acoustic signal affects discrimination performance in a songbird. Animal Cognition, MS# AC-11-0145.
Hoeschele, M., Cook, R.G., Guillette, L.M., Brooks, D.I. & Sturdy, C.B. (2012). Black-capped chickadee (Poecile atricapillus) and human (Homo sapiens) chord discrimination. Journal of Comparative Psychology, 126(1),57-67.
Avey, M.T., Hoeschele, M., Moscicki, M.K., Bloomfield, L.L., & Sturdy, C.B. (2011). Neural correlates of threat perception: Neural equivalence of conspecific and heterospecific mobbing calls is learned. PLoS ONE 6(8), e23844.
Hoeschele, M., Moscicki, M.K., Otter, K.A., van Oort, H., Fort, K.T., Farrell, T.M., Lee, H., Robson, S.W.J., & Sturdy, C.B. (2010). Dominance Signalled in an Acoustic Ornament. Animal Behaviour, 79, 657-664.
Hoeschele, M., Gammon, D., Moscicki, M.K., & Sturdy, C.B. (2009). Note types and coding in Parid vocalizations. The Chick-a-dee call of the Chestnut-backed chickadee (Poecile rufuscens). Journal of the Acoustical Society of America, 126(4), 2088-2099.