Academic Profiles
---
Clayton Dickson
Alberta Innovates Health Solutions Senior Scholar
Associate Professor
Office: BS-P439
Phone: 780-492-7860
Email:
Weblinks: Homepage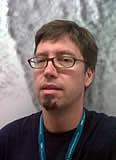 Teaching
Psyco 104 - Basic Psychological Processes
Psyco 371 - The Neurobiology of Learning and Memory
Psyco 471 - Neurophysiology: Theory, Methods, and Analysis
Physiology 444 - Advanced Topics in Neurophysiology
Research Interests
Coordinated rhythmic neuronal activity is an operational facet of the nervous system that may underlie such basic psychological processes such as perception, attention, and memory. Our lab studies the neurophysiological mechanisms and the role of such activity in medial temporal lobe memory regions of the brain. Our research is relevant to the encoding, consolidation and recall of information taking place in this area and is also relevant to neurological disorders such as Alzheimer's disease and Epilepsy.
Selected Publications
Sharma AV Nargang F, Dickson CT. (2012) Neurosilence: Suppression of neural activity with intracerebral applications of Anisomycin. J Neurosci 32(7):2377–2387
Dickson, CT (2010) Ups and downs in the hippocampus: The influence of oscillatory sleep states on "neuroplasticity" at different time scales Behav Brain Res 214: 35-41.
Clement EA, Thwaites M, Richard A, Ailon J, Peters SR, and Dickson CT (2008) Sleep-like cyclic alternations of brain state under anaesthesia. PLoS ONE 3: e2004.
Wolansky TD, Clement EA, Peters SR, Palczak MA, and Dickson CT (2006) Hippocampal slow oscillation: A novel EEG state and its coordination with ongoing neocortical activity. J.Neurosci. 26 6213-6229.
Dickson CT, Biella, G, and de Curtis, M (2003) Spontaneous slow periodic events and their transition to gamma oscillations in the entorhinal cortex of the isolated guinea pig brain. J Neurophysiol 90: 39-46.