Academic Profiles
---
Alinda Friedman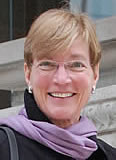 Teaching
Psyco 212 - Introduction to Research Methods in Psychology
Psyco 413 - Design and Analysis of Experiments in Psychology
Research Interests
Visual and Spatial Cognition; Representation and Reasoning about Large- and Small-Scale Geography; Object Recognition in Humans and Birds; The Role of Motion in Object Recognition; Factors Influencing Scene Perception; Contextual factors influencing size judgments; The role of body weight in cognitive and perceptual judgments.
Selected Publications
Friedman, A., Waller, D., Thrash, T., Greenauer, N., & Hodgson, E. (2011). View combination: A generalization mechanism for visual recognition. Cognition, in press.
Uttal, D.H., Friedman, A., Hand, L.L., & Warren, C. (2010). Learning fine-grained and category information in navigable real-world space. Memory & Cognition, 38, 1026-1040.
Friedman, A., Vuong, Q.C., & Spetch, M.L. (2010) Facilitation by view combination and coherent motion in object recognition. Vision Research, 50, 202-210.
Spetch, M.L., Friedman, A., Bialowas, J., & Verbeek, E. (2010 ). Contributions of category and fine-grained information to location estimates: When categories donít weigh in. Memory & Cognition, 38, 154-162.
Friedman, A. (2009). The role of categories and spatial cuing in global-scale location estimates. Journal of Experimental Psychology: Learning, Memory, & Cognition, 35, 94-112.