Academic Profiles
---
Chris Sturdy
Associate Chair (Research)
Associate Professor
Office: BS-P441
Phone: 780-492-7843
Email: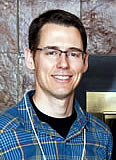 Teaching
Psyco 381 - Principles of Learning
Psyco 403 - Animal Communication
Psyco 403 - Ancestral Health
Psyco 496 - Individual Research
Psyco 498 - Individual Study
Research Interests
An interdisciplinary and integrative approach to understanding the Neuroethology of songbird acoustic communication, with interests in these related research areas: Animal Cognition, Animal Behaviour, Animal Communication, Neuroethology, Neurobiology and Behaviour, Neuroscience, Artifical Neural Networks.
Selected Publications
Proppe, D.S., Sturdy, C.B., & St. Clair, C.C. (In press 7 November 2012). Anthropogenic noise contributes to urban homogenization. To appear in Global Change Biology.
Guillette, L.M., Hoeschele, M., Hahn, A.H., & Sturdy, C.B. (2012). Heterospecific discrimination of Poecile vocalizations by zebra finches (Taeniopygia guttata). Journal of Comparative Psychology. DOI: 10.1037/a0029992
Hoeschele, M., Cook, R.G., Guillette, L.M., Hahn, A.H., & Sturdy, C.B. (2012). Auditory same/different concept learning and generalization in black-capped chickadees (Poecile atricapillus). PLoS ONE. DOI: 10.1371/journal.pone.0047691
Hoeschele, M., Guillette, L.M., Sturdy, C.B. (2012). Biological relevance of acoustic signal affects discrimination performance in a songbird. Animal Cognition. DOI: 10.1007/s10071-012-0496-8
Hoeschele, M., Weisman, R.G., & Sturdy, C.B. (2012). Pitch chroma discrimination, generalization, and transfer tests of octave equivalence in humans. Attention, Perception, and Psychophysics.
More Publications